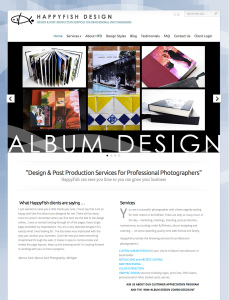 Besides Photography – my wife and I run a successful company – HappyFish – where we service the needs of professional photographers around the world:
Since 2005 our clients find us through word of mouth  – they seek the utmost of personal attention and customer service.  We genuinely enjoy getting to know our clients and exceeding their expectations with every project. Quality and trust is the foundation of our relationship – ONLY Karen and I work with your images.  While the world seems to be moving to mass production and automation – we're going in the opposite direction of personalized and direct customer service.  To learn more about us and our post-production services check out our website.
The reason why I have a 'FOR PHOTOGRAPHERS' section on my personal photography website (www.chaddahlquist.com) is to provide a venue to share posts on various things of which I'm very active in the photography community on – ie. computer tech, calibration, retouching examples, photo gear and such.